This fundraiser was closed in 2020. With the current second wave of Covid-19 (May 2021), there is a lack of medical supplies, in public hospitals.
We can not just look at the situation and do nothing! That's why
we started a new fundraiser!
You can find the
link to our Go Fund Me page

with more information here.
Wanna help?
With a donation of 35 euros we can deliver a food package to a family for at least 3 weeks.
Nepal Inside Out has started a Go Fund Me fundraising campaign for the local population of Nepal. Go Fund Me is a trusted online platform for fundraising campaigns.
Visit this link to our Go Fund Me page to donate and/or share our campaign.
We strive for an amount of €5000 to provide a total of 200 Nepalese families with a basic food package.
On behalf of us and the Nepalese people we thank you!
The current situation in Nepal
Since the 24th of March the beautiful country Nepal is also in a full lockdown by Covid-19. This will last until at least April 27th but is expected to be extended further.
Before the lockdown, there were almost no Covid-19 cases in Nepal but because there were more Covid-19 cases everywhere and the government of Nepal wanted to limit the cases in Nepal, they decided to introduce a lockdown just like neighbouring India. In the mean time there are 31 cases (on 20/04), which came in via India, via tourists or via Nepalese working abroad.
Lack of good health care
In Europe, there is the luxury of falling back on a social security system in exceptional situations of this kind. In Nepal, health care is downright weak and therefore this luxury is not there for the poor local population. For this reason, an outbreak of the Corona virus in Nepal would be a humanitarian disaster.
Low to zero income
Many Nepalese depend on the tourism industry for their income. Because of the lockdown a lot of people in the Nepalese villages are struggling with low to no income. Because of this there is often no money for enough food as the government does not provide financial support. With the disappearance of the two tourist seasons, autumn (October-November) and spring (March-May), there is no immediate solution to this problem in the short term.
High food prices and no basic ingredients
Moreover, food prices have skyrocketed. This is largely due to the fact that neighbouring India has also closed its borders. Now you will think, what does India have to do with this? This is how it is; the basic ingredients for the two daily meals of the Nepalese, called Dal Bhat, are largely grown and imported from India. Think of rice, lentiles, oil, etc…
Transportation of these goods is  nearly impossible.
This scarcity of basic ingredients has caused prices to rise.
Beyond that, the current situation means that there is little or no transport between the towns and villages. This has led to the fact that in the villages the basic ingredients are almost sold out. Fortunately, there are still locally grown vegetables and fruit, but this is not enough.
Our objective
Our goal is to bring food parcels from Kathmandu to the villages of Thulo Parsel and Bulde in the short term. These food parcels each consist of 30 kg rice, 3 kg lentils, oil, salt, curry powder and 2 pieces of soap. This is sufficient for about 3 weeks based on a household of 2 to 3 persons. The food parcels will be distributed to 200 households that need it!
Why we bring these food parcels to these specific villages, how we are going to realize this and why we need your help is explained below. So please read on.
Why these villages and our focus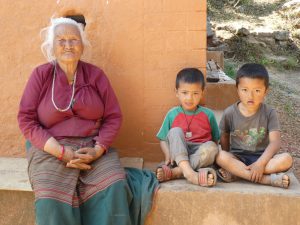 Chuda, the founder of Nepal Inside Out and all our trekking guides and porters come from these villages. Their families still live here and that's why we think it's logical to focus our attention on these villages first.
Our focus is on the elderly and families with children without income.

How we're going to achieve this

The preparations
Chuda will buy the goods from a wholesaler in Kathmandu and arrange transport, but there is more to it than that. The necessary documents have to be requested from various agencies to transport the goods legally from Kathmandu to the villages. Chuda will take care of this as well.
Our guides are making an inventory of the families that are eligible for these goods.
Transporting and distributing the food parcels
As soon as everything is taken care of it can really start! As soon as the goods arrive in the village, the guides pick them up. They will make parcels of it and distribute it according to the list drawn up in advance.
Why this action?
The hospitality of the Nepalese
Everyone who has ever been to Nepal has probably experienced the hospitality of the Nepalese people. Their door is always open for you and even if they have little, you can always join them at the table. Everything is shared with you and therefore it is time to do something in return for these friendly people!
No government support
Where in the West we can fall back on a social care system and financial support from the government, this is not the case in Nepal. We don't have to worry about our basic needs in situations like this, but the poor Nepalese people do! That is why they need your help!
It fits in with our sustainability policy
Nepal Inside Out is a sustainable travel organization that wants the local population to benefit as much as possible from the tourism industry. This means that we give back to the communities where our employees come from or where we take our visitors with us.
That's why it makes sense for us to take action in these difficult times of the Covid-19!
We need your help!
On behalf of everyone at Nepal Inside Out we would like to thank you for your interest and for taking the time to read this information! We ask you to help us with a small donation. We would also very much appreciate it if you could share our messages on social media about this subject so that we can reach as many people as possible with our action.
With already a donation of 35 euros you provide a family of 2-3 people with food for 3 full weeks!
Visit our Go Fund Me page with the link at the top of our page or use the following account number for a direct transaction: BE79 9670 4787 6233 in the name of Nepal Inside Out – stating Go Fund Me – food parcels.
Help us provide the local people of Nepal with basic products. We thank you in advance on behalf of the families.
Dherai dherai danyabaad! (Thank you very much!)