Are you interested in an internship in Nepal? Then read on because often we are looking for interns for different positions! We have experience with interns, as we worked with interns from Breda University of Applied Sciences – Netherlands.
The open internships are for the moment:
– Intern Sales, Operations & Product Development
Location: Kathmandu, Nepal or ONLINE
Time frame: to be agreed, preferably minimum 3 months, max. 21 weeks  (max. 150 days due to visa reasons!)
Working days : Monday to Friday
Working hours: 9.00 am to 5.30 pm (with half hour lunch break)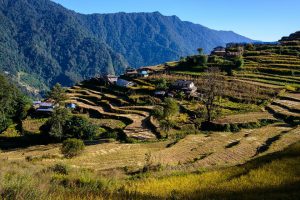 Company description:
Nepal Inside Out is a local, small-scale travel organization founded in 2015 by Maaike (Belgian) and Chuda (Nepali). The combination of Belgian reliability and Nepalese knowledge and hospitality, allows us to introduce our guests to the different aspects of the beautiful Nepal. Through our creative tailor made trips they enjoy real contact with the local people, adventurous walking tours in the Himalayas and the various Buddhist and Hindu culture. Moreover, our trips are always honest and responsible.  As a fast growing local travel agency we would like to contribute to sustainable tourism in Nepal.
Your tasks
As an intern sales & operations you will join the small team of our small-scale travel organization in Lazimpat, Kathmandu. You will assist Maaike of Chuda with their daily activities. The emphasis is on support in the sales of our trips and the coordination of the treks and tours.
Your tasks can be very diverse:
Handling travel and trekking requests;
Conducting sales interviews with existing and new customers (by video call and email);
Making tailor-made travel proposals via our online system;
Customer contact (before, during and after the trip);
Organization of round trips and treks (updating the planning, making hotel reservations and informing coordinators and suppliers);
Supporting in product development
Managing the mailbox
Nepal Inside Out is strongly engaged in sustainable tourism. We are Travelife Certified since 2018. Sustainability is an ever evolving process, so there are always opportunities to make our company even more sustainable. You help us to do this and ensure that we do enough for our biennial (re)certifications of Travelife.
In addition, there is also room to work on:
Collecting images (film and photo);
Creating content: writing blog posts for our website (English)
Creation of Facebook & Instagram posts,…
Who are we looking for?
A motivated student who:
– loves to learn new things and learns quick;
– can work accurately and independently,
– can flexibly deal with cultural differences and intercultural situations,
– is not fond of great luxury,
– can find solutions and works pro-actively.
And that you also have the following knowledge and experience:
You are following a Bachelor (or Master) degree, preferably in tourism or business with a great interest in tourism;
you enjoy working in a small, intercultural team;
You are very communicative in correct English, both spoken and written;
Understanding written German, speaking and writing German is a plus;
You are creative and think along in the further development of Nepal Inside Out as a tour operator as well as in which original products we can offer.
You want a unique, intensive internship at the foot of the Himalayas
What do we offer?  
On-site supervision by a Nepal expert with experience in sales, complaint handling, product development and operations;
Fascinating practical experience in a small travel organization;
An unforgettable experience in the heart of Nepal, Kathmandu;
Intervention in your stay in a home stay in Kathmandu; number of extra holidays (in the quiet period, so not October or November or in March and April)
Others to be discussed
Interested?
Does this internship appeal to you and are you excited to do your internship in Nepal?
We would like to receive the following information from you:
– Curriculum vitae
– English-language motivation letter
– A short, written English-language blog article on a topic related to tourism in Nepal
Send these documents to maaikemainali@gmail.com, with the title 'Internship Nepal' and certainly mention your desired internship period.