Nepal Inside Out is a family-run Nepalese travel organization. The founders of Nepal Inside Out are Maaike (Belgian) and Chuda (Nepali). They live together with the two sons of Chuda, Puskar and Anup and their daughter Muna in Kathmandu and from here they also run their travel organization in Nepal.
Chuda Mainali
Co-founder / Managing Director
Namaste!
I am Chuda, born and raised in the mountains of beautiful Nepal. I am from Thulo Parsel, a village in the mountains of the Temal district (Kavre).
I was only allowed to go to school until I was 16 years old and after that I started early in tourism. First I went as a porter in the mountains, then as an assistant cook. I liked to learn and soon became an assistant trekking guide and then a trekking guide. I feel at home in the mountains.
With the founding of our travel organization my big dream came true: a travel organization of my own, in which I can provide work for family and friends and with which I can contribute to the development of different communities. I like to organise and arrange treks and trips and make sure everything runs smoothly. Outside the season I sometimes go along as a guide myself, and I really like to go with families.
Maaike Mainali – Knockaert
Co-founder / Manager
Namaste!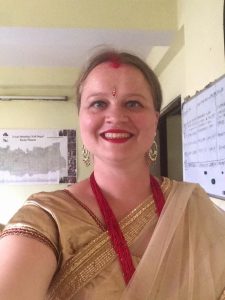 My name is Maaike, Belgian and I have been living in Nepal for several years. After my law studies, I worked in various service sectors, including as a tour guide in Malta and Bulgaria. However, I didn't exactly find my niche and by now I was also in a difficult private situation.
During a severe burn out I got the chance to travel, an ideal way to recharge my batteries somewhere in nature and to find out what I really wanted. Iceland was number 1 (and is still on my bucket list), but as if by coincidence I bumped into a small group trip in Nepal. I hardly knew where Nepal was, but it attracted me: the land of the snowy and mysterious Himalayas. Now I know there is much more to see and experience than the Himalayas.
During this trip I fell in love with the country, and with my husband Chuda. After a second trip to Nepal, where I wandered around in the beautiful Upper Mustang, I decided to move to Nepal. And – despite the many challenges – I hadn't regretted that for a minute. The country is incredibly diverse: a fascinating mix of different peoples and religions, beautiful nature and of course ancient temple complexes. I wouldn't rather discover new places and incorporate them into the tailor-made journeys we create.
Together we are really looking forward to get to know you and show you our lovely country!