While putting together your holiday, you have a lot of options where to stay. From luxury 5-star hotels with all the trimmings, to small-scale hostels and homestays. Some of the hotels we work with, focus strongly on sustainability. But what makes these so special and why should you choose a sustainable hotel specifically? You will find out by reading this blog. In here, you will find some of these gems that we, as a sustainable company, are keen to promote.
Sapana Village Lodge
Sapana Village Lodge is a beautiful lodge located in Chitwan National Park. The hotel is known for its Chitwan Park safaris, adventures, comfort and its authentic Tharu decorations designed by locals. They have also established a non-profit organisation called Sapana village Social Impact. SVSI's vision is that every person and their community deserve the basic necessities to live, be respected and take responsibility for their future and well-being. Their mission is to support communities in quality education, health, equity, livelihood and environmental conservation, together with the community. Are you curious about the projects they are working on? Then take a look at their website.
So, Sapana Village Lodge considers it very important to operate sustainably. For instance, they use solar energy. The restaurant offers healthy organic food with ingredients from their own garden. They also care about animal welfare. Sapana Village Lodge cares for about 5 rescued elephants who stay chain-free next to the lodge, so as visitors, you eat and sleep in between the elephants. The elephant caretakers, also known as mahouts, absolutely say "no" to elephant rides for tourists. However, you can bathe the elephants, feed them and take a respectful walk with them.
Traditional comfort – A boutique hotel
Traditional Comfort is a boutique hotel located a 15-minute walk from Kathmandu's tourist district of Thamel. They are, like Nepal Inside Out, by Travelife certified. They believe in the power of sustainable tourism.
The first step you take inside the hotel, you immediately notice the hotel's focus on customer experience. They do this by taking a sustainable approach which is reflected in the decoration and design of the hotel. The interior reflects old features and traditions such as the dark wood beams in the lobby, decorative tiling in the bathrooms, angled ankhi-jhyal windows and paintings of local life on the walls. They have been able to achieve this by using local artisans to design and build the hotel. They also use responsible environmental practices. For instance, they have a sustainability policy that all employees adhere to. One example is that they put reusable waterbottles in the rooms for the customers instead of plastic bottles that have to be thrown away after one use.
Begnas Lake Resort
Begnas Lake Resort is a resort located 11 kilometres from Pokhara City. The resort is in a unique location away from the day-to-day hustle and bustle. The resort is surrounded by jungle where you can do lots of hiking and mountain biking and a lake where you can canoe, take a boat ride and paraglide.
From the very beginning, they have been working with the local community. It was the local people who carried the building materials and started building. In 1999, they opened their doors and largely hired locals as staff. Begnas Lake resort is the first big company to set up in the area which has provided significant development for the local economy as it has provided employment for many families. War has ensured that women can take good care of their children.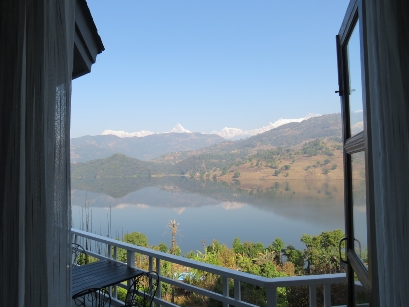 Many of their employees now also have their own businesses which they are very happy with. This is how tourists to local shops and restaurants to buy souvenirs and get some food. So they work a lot with the local community, organising music concerts and doing traditional dances.
They undertake various things to contribute to the environment. For instance, waste is recycled and wastewater is discharged into pits to prevent it from entering the lake. They use organic products from their own garden and the local environment. They try to disturb the local flora and fauna as little as possible. This ensures that customers can enjoy wild birds and monkeys early in the morning. If you are lucky, you can hear leopards calling at night.
Namo buddha Resort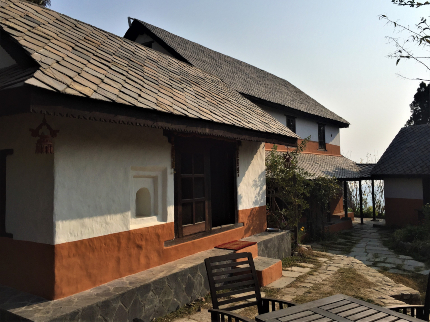 Namo Buddha Resort is located just outside the Kathmandu Valley. The resort is located on a hilltop 1800 metres high where you have spectacular views of Himalayan mountains. It is an organic farm resort where sustainability is key but they also offer a touch of luxury. The resort is built in traditional Newari style. Surrounding it are organic farmlands, flower gardens and forests. Here, they use sustainable agricultural cultivation. This is reflected in the kitchen, where they prepare vegetarian dishes with organic produce they grow themselves. They do not use artificial products in their dishes.
80% of the staff are locals. To help the local community, they support Association for Craft Producers. For instance, the bedding is designed with traditional patterns and the pillowcases are hand-woven. The stylish tableware comes from Bhaktapur  Thimi Ceramics.
Kavre district is increasingly facing water shortages. Therefore, they have taken some important steps to address the water shortage. They monitor water consumption daily and recycle grey water from communal shower houses. They have also constructed water reservoirs that replenish not only their own well but also neighbouring wells, thus improving access to water for the community.
Conclusion
So sustainable accommodation can add a lot of extra value to your holiday. Such as fresh and organic food from their own gardens, prepared by locals. Besides having an unforgettable experience by staying in one of the above accommodations, you also promote sustainable tourism which is very important for Nepal's future. You will be doing your bit for the environment as well as supporting local people. What more could you ask for?!