Time is moving incredibly fast. Before you know it, you pass the 50. Even if you are no longer in your twenties, you are still in young :-)! And there are also a lot of advantages to getting older. You have more holidays or are approaching the end of your professional career. Or you are already retired. If you had children in the house before, they will soon leave the nest and you will have more time for yourself. In addition to regained time, you now have more budget and time to explore the world.
But which countries do you want to see now? If Nepal is on your list, be sure to read on! If Nepal is not on your list yet, maybe what you will find below will convince you that Nepal is also suitable for active people over 50!
A diverse tour through Nepal.
Immerse yourself in the Nepalese culture
Meet the Nepalese: workshops and homestays.
Fascinating encounters with the locals will give your journey more depth. You will learn more about the lifestyle and traditions of the common Nepali people. And it helps you better understand why Nepal is the way it is. There are many options to have contact with the locals.
Take a short city walk or do a food tour in the old part of Kathmandu. A local will take you to the best local eateries and tell you facts you won't find anywhere else. Or do a cooking workshop at a local NGO, not only will you learn how to make delicious Nepali food, but you will also help marginalized women at work. If you are more creative, maybe you can follow a workshop with a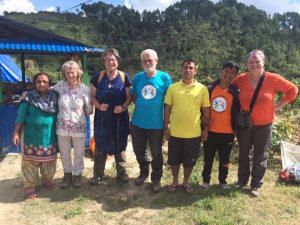 craftsman or a women's cooperative. I'm thinking of felt working, pottery, forging metal into a jewel or a prayer wheel, woodworking, stone cutting, you name it.
If you really want to see how a Nepalese family lives, consider including a homestay in your trip. You will spend the night in the house of a Nepalese family and will be able to see how an average day goes. If you stay in a community homestay, you will contribute to the whole community. Because there are many different communities in Nepal, the possibilities are endless.
Discover the fascinating Nepalese culture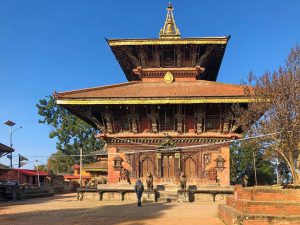 If you like culture, then Nepal really is the place to be. Together with a specialized cultural guide you will visit some of the highlights of Nepal. From the stupa in Boudhanath, the ritual cremation place in Pashipatinath and other treasures in the Kathmandu valley to the various temples in Lumbini. Besides the highlights, there are also some not-to-be-missed lesser known places, which you can certainly include in your trip. From the Newari town of Kirtipur, the village of Chitlang with its rich history, to the village of Tansen between Pokhara and Chitwan.
Travelling with a guide not only gives you the opportunity to learn a lot about the history and traditions of Nepal, but also to learn a lot about what daily life is like in Nepal. If you don't like to arrange and select a lot yourself during your trip, this is an ideal way to travel! If, on the other hand, you would like to be a bit more independent during your trip, you can of course also discover the highlights and less known places yourself without a guide. We will then arrange the accommodation and transport for you.
Enjoy one of the many festivals!
Also worth a visit are the many cultural festivals in Nepal. I don't think there is another country in the world where there are so many holidays and special festivals! The dates of these festivals depend on the position of the moon and so each year on a different date!
The best known are Dashain, Tihar and Holi festival. The Dashain festival usually takes place in October. During this festival everyone returns to his native village to receive the blessing of the elderly. There is celebration and gifts are handed out. The Tihar festival is two weeks after the Dashain festival and is also called the festival of light, or Deewali. On the 5 most important days animals are worshipped. You might have seen a picture of a dog with a red tika on his forehead. Well, this is one of the venerated animals. Also the brothers are put in the 'light' here. The Holi festival is undoubtedly the best known. Here they actually celebrate spring and there is an exuberant throwing of coloured powder.
There are also a lot of local festivals, and even festivals in the mountains that are worthwhile. So if you want to make your trip a little more intense, see if you can experience a festival. If you want more information about the festivals, take a look at our blog about them!
Explore the beautiful nature parks with the wild animals
Paradise for nature lovers
Nepal is also recommended for nature lovers! Biologists have registered as many as 181 mammal species, 844 bird species, 100 reptile species, 43 amphibian species, 185 freshwater fish species and 635 butterfly species in Nepal! To protect this biodiversity, Nepal has a network of 20 protected nature reserves. This consists of 12 national parks, 1 game reserve, six nature reserves and one hunting reserve. In addition, 9 areas in Nepal have been recognized as important wetlands (Ramsar).
Jungles in the natural parks in the South
Some natural parks are located in the Himalayas, but others are located in parts that are more easily accessible. The best known is Chitwan National Park. In addition, Bardia National Park is also very accessible, and less unspoilt. Both parks are located in the South of Nepal. In these parks you can spot the Bengal tiger and the rhino. You can walk into the jungles of these parks. Of course, for safety's sake, a park ranger and a local nature guide will always accompany you! This is quite unique for Asia! Or you can enter the park via the river. In Chitwan you sail in a hollowed out tree trunk, in Bardia via an inflatable raft. If you prefer to go by jeep, that is also possible of course. This is certainly nice to visit a number of less accessible places. It is also possible to spend the night in a tree house in part of the community forest! Indigenous people live around the national parks! You can take a walk through some of these villages or rent bikes and set off on your own. Oh yes, it is flat in this region.
Transport during your tour
The flexibility of private transport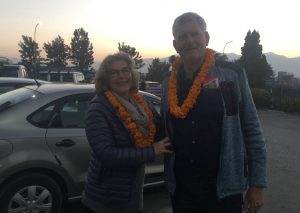 In Nepal it is not possible to rent a car and drive yourself. The roads are too bad, the traffic rules are too unclear and above all it is too dangerous. If you want to get the most out of your trip, it is best to go out in a car with a private driver. On normal roads this is a normal 4 door passenger car with air conditioning, if the road is too bad, you travel in a jeep.
Domestic flights
In Nepal, a domestic flight is sometimes unavoidable. These are small propeller planes, flying on sight. In some trekking destinations it is not at all or very difficult to get by road. A domestic flight is in that case safer and more comfortable. I am thinking in particular of Lukla and destinations in the far West or East of Nepal. If you want a domestic flight as an alternative to a long drive, this is also possible. Although you are not always faster off. Domestic flights are also often delayed in Nepal, so it can happen that you spend a few hours at the airport. We always recommend to do as much transport by road as possible! Better for the climate and it gives you more flexibility to get to know the real Nepalese life.
Tourist buses
If you would like to experience a bus trip in Nepal, we can also include a ride with a tourist bus in your trip. These buses are a bit more luxurious, and above all safer than the regular local buses. On top of that, they also have a numbered, private seat. These buses only run between major destinations, and don't stop much.
The Himalayas, am I going to trek or not?
Am I able to do a trek in Nepal?
Nepal of course includes the Himalayas! Rest assured, even if you only make a tour through Nepal, there are several possibilities to get a beautiful panoramic view of this natural beauty. Of course the experience of hiking in the mountains is unequalled. The Himalayas are immense!
And yes, crossing some parts requires mountaineering skills and an excellent condition. Here it is mainly about long treks at high altitude where you cross mountain passes or if you really want to climb a mountain. But just because the Himalayas are so immense, they are very diverse.
Many parts of the Himalayas are very accessible, where anyone can do a trekking. Anyone? Almost everyone. If you like walking, have a basic physical condition and perseverance, you can go into the mountains. A little training and extra hiking before your trip will make sure you can enjoy it even more!
Which treks are possible?
There are treks of different grades, also for beginners. In the lower part of the Annapurna region some trails are constructed with flat stones, so they are not full of loose rocks. The slopes are also made up of large steps. In other treks you will follow a path with some more challenges.
Tip for a successful trekking.
Besides a good preparation at home, it is best to take two walking sticks with you during the hike. These are an extra help if you encounter a stream or other challenging situation, but above all they will help you not to put too much strain on your knees when descending. In Nepal you always go up and down, there are very few flat stretches in the mountains.
The convenience of a guide and a porter
A trained trekking guide is always included during the treks we organize. This guide not only guides you through the mountains, but also solves all problems along the way. He will arrange your meals and overnight stays and help you to make contact with the locals. In this way you can optimally enjoy a carefree and safe trekking and you will help a Nepali to earn an income. We also recommend that you bring a porter with you. A porter is a respected profession in Nepal and often the only source of income for the low-skilled. So you give an income to a Nepali, but you also enjoy your trekking more. During the day you only walk with your day backpack, which makes your trekking less heavy. When you arrive at the next teahouse, the rest of your luggage is already waiting for you. It is like the experience of going into the mountains with a Nepalese team, which makes a trekking unique!
Are there possibilities to eat gluten free, lactose free, vegetarian or vegan?
If you follow a special diet or are allergic to certain food, then travelling is often a challenge. During a trekking you can easily eat vegetarian and even vegan. Also gluten and lactose free is usually not a problem. If you talk to us about your dietary requirements, we will make sure that your guide pays extra attention to this in the kitchen of the teahouse and if necessary bring some extra's with you.
No trekking, but a beautiful view of the Himalayas.
If you are a bit less fit, you really don't like to walk in the mountains or you just don't want to do a trekking, there are still several possibilities to see the Himalayas. In the Kathmandu valley you can go to a number of 'hill stations'. These are villages that are situated on one of the hills around the Kathmandu valley and from where – when the weather is clear – you can enjoy a panoramic view of the Himalayas. To name a few: Nagarkot, Dhulikhel, Chandragiri and Kakani. One by one nice places where you can enjoy the white peaks of the Himalayas.
Also during your tour there are plenty of possibilities. In Bandipur you have a breathtaking panoramic view of the Himalayas. Also in Pokhara you can see the mountains well, or go to the nearby Begnas lake. If you want to enjoy a sunrise over the Himalayas, go to Sarangkot, on foot or by taxi. In Tansen you also have a view of the Himalayas, and if you are very lucky, you can even see the Himalayas from Chitwan. Of course this is very weather dependent and you can see the mountains best in clear, sunny weather!
Early in the morning there are also mountain flights from Kathmandu that fly over the Himalayas for 20 minutes with Mount Everest. Not so good for the climate, but an unforgettable event. If you want to compensate your carbon footprint, ask us and we will gladly help you!
If you want something special and have a larger budget, then taking a helicopter flight is an option. From Kathmandu you fly to the Everest region, from Pokhara to Annapurna Base Camp. You can also combine this with a delicious champagne breakfast. Keep in mind that this adventure may cause symptoms of altitude sickness. Without any acclimatization you will immediately go thousands of meters into the air.
Your accommodation during your Nepal travels.
Comfortable guesthouses and hotels
Depending on the comfort you are looking for, there are numerous possibilities to spend the night in a comfortable boutique hotel or a cosy guesthouse. If you want it a bit more luxurious, this is also possible! There are plenty of options, but if you want to get more off the beaten track, the hotel is often simpler.
Cozy teahouses
During a trekking, the accommodations are usually a bit simpler. In the rooms there is only a bed and a bedside table. The bathrooms are usually shared and there is not always hot water. Again, if you walk a lot of trails, the teahouses are more developed. If you go to a more remote region, then it's back to the basics. Besides a sleeping bag and a liner you could also bring an extra mat.
Homestays
We mentioned it above, but there are many homestays that are worthwhile! Some homestays are as comfortable as a guesthouse, and you get the additional vibe of the hospitality of a Nepalese host family!
Do you like to give something back?
We like to give back as much as possible to the local communities. If you want to do something as well, there are several possibilities. There are many different NGOs in Nepal that often support small local projects. Most of them bring basic needs to the communities. Some help with the provision of potable water, others help a local school, others are even more focused on a niche, such as environmental education or women's emancipation. Let us know what your interests are and how you would like to contribute and we will be happy to find out for you.
Recently we have also linked an NGO or social project to our treks or tours. This means that you can visit the work of this NGO or ongoing project during your trip, if you wish. You can then make a donation here or possibly set up something at home to raise some money for this NGO. Another option is to sponsor the school career of a young child. Here too we have connections with NGOs that are reliable and have been mediating for years.
We hope that you are convinced to discover the beautiful and unique Nepal as an active over-fifties! Because we make tailor-made trips, we can tailor the trip to your wishes!