As a company, we find it important to collaborate with hotels that also operate sustainably.
The 3 main points we look at when partnering with accommodations: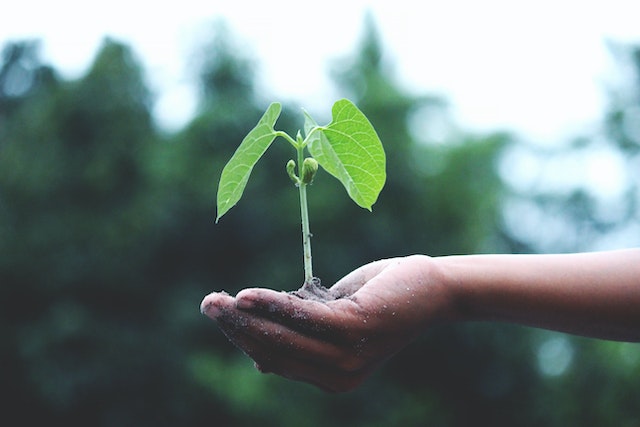 1. The right comfort for the right price
2. Fair business
3. Minimising environmental and social impact
To comply with these three points, you can do the following things:
Human care
It is important to take good care of your employees. The reason why this is important, is because if the employees are valued and treated fairly, they will also interact with their customers in a friendly and cheerful manner. Which the customers will really like and feel appreciated by the employees in the hotel. As a result, they will go back home, feeling good and will leave a positive review which is very good for the company. Because the more good experiences from previous customers, the more new customers will come.
Minimize use of plastic
We also think it is important to minimise the use of plastic. The production of plastic releases harmful substances into the air, which is dangerous to our health. Burning plastic also damages the atmosphere. These harmful substances cause global warming. Global warming causes sea levels to rise, there will be longer periods of heat and dryness and other periods of extreme precipitation. This can cause floods, crop failures and famine, more refugees and more diseases and pests.
Plastic does not decompose. So all the plastic that is produced does not just disappear. The plastic that ends up on the streets stays in the environment. Animals think the plastic on the street and in the water is food and so they try to eat it but this can cause them to choke on it and die. Plastic in the environment finally falls apart and ends up everywhere. In the water, soil and air and eventually in our food and drinks.
In short, there are a lot of drawbacks to plastic and the consequences it brings, which is why we would like to minimise the use of plastic to do less damage to the environment and take care of our own health.
Examples you can undertake to minimise plastic use:
Use glass cups instead of plastic-way-throwing cups. This will not only minimise the use of plastic, but you will also incur less costs from this. Glasses only need to be purchased once, while plastic cups need to be purchased again and again as they can only be used once.
Use glass bottles that you can refill with water, instead of plastic-way-throw bottles. This also creates a classier look in hotel rooms.
Use refillable shampoo bottles in the bathroom, instead of mini shampoo bottles for each customer separately.
Use reusable cotton bags instead of plastic bags.
Use compostable rubbish bags instead of plastic rubbish bags for organic waste.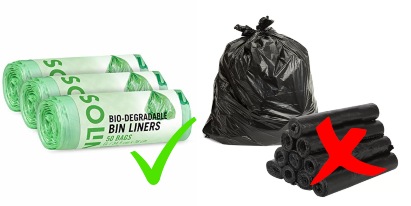 What to do with waste
The way we deal with waste affects the air, water and land, and the people, plants and animals that depend on them. It is important that we manage our waste responsibly.
To this end, we use the three R-Method: Reduce, Reuse & Recycle.
It's meaning:
– Reduce: reducing waste
– Reuse: reusing products reduces waste.
– Recycle: Separating waste ensures that waste ends up in the right place. For example, all plastic waste is brought together in one place and can be recycled. Recycling means turning the old waste into new products.
Reduce tips
Buy items in bulk. Buy larger, inexpensive, non-perishable items instead of individually packaged items. This reduces packaging materials and therefore waste. It can also reduce costs. If you buy items in bulk, it will cost proportionally less than buying smaller quantities more often.
Buy only what you need. Buying in bulk can reduce the amount of packaging and save money, but only if you need that much product. Buying more than you need makes no sense because anything left over also ends up as dirt and creates more costs.
Avoid single-use or single-function products and use multi-function items. If the product does end up in the landfill, one product that performs three functions takes up less space than three products that perform one function. An added advantage is that they also take up less storage space and cost less because you only buy one product instead of three.
Purchase products without packaging or with packaging that can be recycled.
Try to use printed paper as minimally as possible. Think first, is it really necessary to print this? Try to use as much as possible via email to customers, for example. Then, if it is necessary to print something, print it double-sided so that you use less paper. Again, this will reduce costs.
Reuse tips
Reuse single-sided printed paper as scrap paper.
Use items that can be used more than once. Think cutlery, glasses, plates, bags, etc.
Use cloth napkins instead of paper napkins, cloth napkins can be reused by washing them, which will reduce costs in the long run. Extra tip, you can also fold these into figurines which again will provide a fancier look.
Purchase items of high quality, these will last longer and thus also create less waste. In addition, they ensure you save costs in the long run.
Recycle tips
Buy products made from recycled materials. As these products are recycled, you help reduce the production of new raw materials. You are also ensuring that the recycled material market develops.
Separate your waste into the following categories: plastic, organic waste, paper and residual waste. If you do this, waste organisations can collect the waste and take it to places where that particular material is recycled. This way, they can reuse the material and it can be made into new things.
Energy
Use LED bulbs. An LED bulb can reduce energy consumption by up to 85%. This saves you a lot of money and is better for the environment. In addition, a LED bulb lasts up to 9 times longer than a incandescent bulb.
Turn off lights when you are the last to leave a room.
Turn off appliances completely when you are not using them. Many people leave their appliances on standby when they are not using them but this still consumes a heap of energy.
In winter, make sure there are no open cracks and gaps for warm air to escape from. This actually ensures that it takes much more time for a room to warm up because the warm air can easily get out again.
Make sure rooms are well insulated. If a room is not well insulated, the warm air will not stay in the room as long, which means that much more energy is used to keep the room permanently warm.
Use of water
Make sure there are no leaks in the bathroom or in the kitchen. This causes unnecessary water consumption.
Hang signs in the customers bathrooms with information on them on how much water is used for 1 minute of showering. This will surprise the customers and this way you create awareness and they might start showering shorter. By doing this, you don't force them, the customers can still decide how long they spend in the shower.
Install water-saving showerheads and taps. This will reduce the amount of water coming out of the tap. This will reduce water usage to 3 litres per minute, instead of 5 to 10 litres per minute.
Child protection
Child abuse still happens around the world, including in tourism. Examples include child prostitution and child pornography and the selling and trafficking of children in many different forms. But children are also often used in the workplace. They are often given enormously hard tasks and long working days while they are far too young to work. In addition, they are also paid extremely low wages or no wages at all. We would like to watch out for this, which is why we support The Code – We protect children in travel and tourism.
By being a member of this organisation, you show that you are against child abuse and actually want to do something about it. The code (short for "The Code of Conduct for the Protection of Children from Sexual Exploitation in Travel and Tourism") is an initiative that aims to raise awareness of the problem in the travel and tourism industry and provide support to prevent child sexual exploitation.
Things you can do against child abuse:
If a child is in immediate danger or seriously injured, call the police or another emergency service. If you fear that a child is being abused, mistreated or neglected, call the police or a local child protection services.
– Nepal Police: 100
– Nepal Child helpline (CWIN): 1098
Founded in 1987, CWIN is an organisation that advocates for a child's rights in Nepal; CWIN stands for "Child Workers in Nepal Concerned Centre". They mainly focus on the children who live and/or work with the most difficult conditions and are therefore keen to help them. Take a look at their website so you can get a better idea towards what kind of actions they take to support the children. CWIN Nepal | For Children With Children
Become a member of "The Code of Conduct for the Protection of Children from Sexual Exploitation in Travel and Tourism"
Do not allow children with the age of under 14 to work.
Introduce special working conditions to protect workers between 14 and 18 years (e.g. part-time or internship work).
Local suppliers
"Support your locals." Another way to act sustainably as a business is to support local people, by shopping locally. Besides the fact that these products are often fresher than other products, it also ensures that customers get an extra experience. For example, they can really try and taste the local food, which will create an extra experience for the customers. Thus, they really get the feeling that they have participated in the local culture. Besides optimising the customer experience, it will also reduce the transport of products. Instead of getting the food from a food chain far from the hotel, you will get the food from the greengrocer around the corner. This ensures that there will be one less truck to drive and so there will be less CO2 emissions. CO2 emissions pollute the air and are not good for the environment and human health. In addition, you will also support the people in your own area. Because you buy food from them, they will have another penny to make ends meet.
Biodiversity care
Biodiversity is the variety of animals, plants, micro-organisms and ecosystems. Biodiversity is essential for life on earth, so diversity of plants creates diversity of animals. Unfortunately, we are overloading our planet and using its resources faster than they are produced.
As a result, more and more species are dying out at an accelerating rate. So fast that it is 1,000 to 10,000 times faster than natural extinction. With the extinction of a species, biodiversity decreases: directly, but also indirectly, as other species depend on the extinct species. A devastating domino effect.
There are a number of ways to take better care of biodiversity. Here are some points you can undertake to ensure better biodiversity:
Support eating less meat among customers. For instance, you can put more vegetarian and/or vegan dishes on the menu and place them at the top. That way, customers will see the vegetarian dishes first and see that is an option to choose. Make it something special and something from the local area so that customers are curious about it and are more likely to order it.
Source your food from locals.
Provide plants in and around the hotel. Plants provide better air purification. In addition, it seems that plants provide less stress. This can benefit customers who would like to go on a stress-free holiday and so walk into a hotel with lots of plants and immediately feel a sense of calm inside. It can also be good for employees. Besides, plants also create a cosy and beautiful atmosphere in a room or lobby.
You can also think about creating a little garden with lots of plants. Customers often find this very nice to walk through or to take a seat and read a book. In this way, you offer an extra service as a hotel. For example, you can decorate this garden in the hotel theme or something that typically suits the country and culture.
Authentic charm

Make sure your hotel is decorated with authentic art. This will ensure that the customer experience is enhanced. Thus, there are decorations in the hotel which will create a nice atmosphere. It will also bring customers more in touch with the local culture. If you make sure the authentic art is actually made by local people, if the customers ask about it, you can tell them where it comes from and the customers can also buy a souvenir of it. This way, you stay in touch with the locals and you can work together and support each other. You can then also, for example, sell those items in your hotel so that you make a profit and so does the person who made it.
Community value
By supporting community value, you can do the following things:
Sponsoring local events. By sponsoring local events, those events can actually be realised and take place. You can also communicate this to customers. They might be interested in going to a local event and experiencing it. Thus, you can collaborate with the organisers of those events and you can arrange for discount vouchers you can give to your customers. This way, customers might be more likely to go and you provide an extra service which can enhance the customer experience. As an example, "The Himalayan Vegan Festival". This is a festival where vegan food is promoted. So which is also very sustainability-focused.
Make donations to local heritage sites. Making donations to local heritage sites ensures that those sites will continue to exist and be well maintained. Customers with you are mostly tourists who also like to visit these locations, so if you make a donation to this, these tourist attractions will still exist and customers will also be more likely to book with you because it is close by.
Examples of heritage sites in Nepal:
– Pashupatinath Temple
– Boudhanath Stupa
– Swayambhunath Stupa
– Changu Narayan Temple
– Kathmandu Durbar Square
– Patan Durbar Square
– Bhaktapur Durbar Square
– Lumbini
– Chitwan National Park
– Sagarmatha National Park
Encouraging sustainable work and implementing it
It is important that all employees are aware that sustainability is important. Make sure your employees are adequately informed, know how to act sustainably and that they also see what value it will add to the hotel and therefore the customer experience and of course what it does for the planet.
Sustainability certification
As you have read, operating sustainably is very important for us as a company but therefore also for the hotels we work with. As a hotel, you can choose to achieve sustainability certification, like we do as a travel company. An advantage of this is that customers and other companies that want to work with your hotel can see at a glance that your company is consciously working on sustainable operations. So it sometimes happens that another company contacts you to start working together because you have the same goal. This does not necessarily mean that your hotel is better than others because you have obtained such a certificate, but it does show that you are doing it intentionally and want to improve and keep working on it.
There are several organisations where you can get your sustainability certificate. We ourselves work with Travelife, but there are certainly other options as well.
Below are several organisations where you can get your certificate:
Self-assesment
Maybe, you are already operating sustainably without being aware of it! Do this self-assesment from Green Key or Travelife to find out how well you are doing already: https://www.greenkey.global/self-assessment/ or https://travelifestaybetter.com/a-quiz-test.